The Movey Troupe. Etching. 1920. Pencil signed. $2,350.00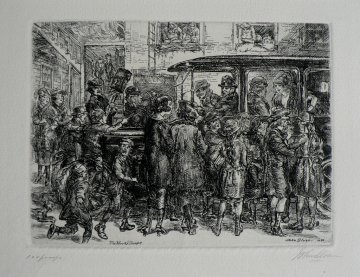 "The Movey Troupe"
John Sloan (1871-1951) was one of the most important 20th century American painters and etchers. He was one of the founders of the Ashcan School and a member of the group known as The Eight. He trained at The Pennsylvania Academy of the Fine Arts and worked as an illustrator at The Philadelphia Inquirer. In 1904, he and his wife moved to New York and settled in lower Manhattan, first in Chelsea , then in Greenwich Village. Both neighborhoods were busy commercial centers, filled with moving picture parlors and entertainment halls. In the teens and twenties films continued to be made in this area of New York even as the industry was moving to Hollywood. Like the movie makers Sloan was attracted by the continual change and movement of the city, the provocative settings it provided, and the bits of human drama constantly unfolding on the crowded streets. This etching depicts such a scene in Greenwich Village as the stars of a production arrive on the scene, a camera man at the ready.
5 ¼ x 7 inches, plate.
Full margins.
9 ¼ x 12 ½ inches, sheet.
Edition of 100 inscribed in pencil.
Excellent condition.
Provenance: Baldwin-Wallace College, Berea, Ohio/.