Lower Providence. Historical Atlas... Philadelphia: Scott, 1877. $175.00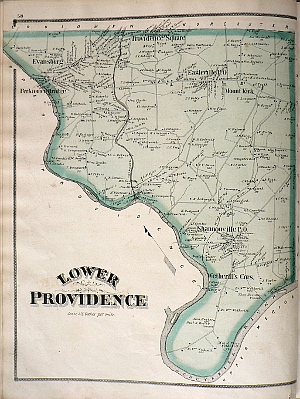 "Lower Providence"
From a beautifully hand colored series of map which were as stated on the titlepage "Compiled, Drawn and Published from Personal Examinations and Surveys" in the year following the opening of Philadelphia's Centennial celebration. Engraved by C.F. Ruff, Walnut Street, Philadelphia for the Historical Atlas of Montgomery County, Pennsylvania Illustrated. Shows Wetherill's Corners, Shannonville P.O., Mount Kirk, Eagleville, Perkiomen Bridge and Providence Square.
17 x 13 ½ inches.
Lithograph with beautifully preserved original hand coloring.
Excellent condition save small tear in margin at lower right.
Note: The condition and color of the map is superior to what it appears to be in the photographs. If it interests you we invite you to ask to receive additional photos