(Merion and Wynnewood) G.M. Hopkins. Atlas ... Pennsylvania R.R.City Line to Malvern. Phladelphia, 1884. $225.00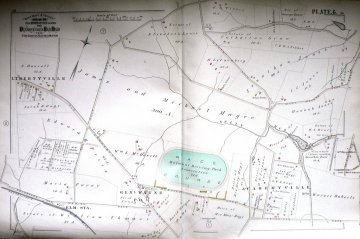 Plate 6 from G. M. Hopkins atlas centers on the Belmont Driving Park Association Race Course. Also marked are flag and blue stone quarries, Elm Station, en'l Wayne P.O., Academyville and Libertyville.
We have a large selection of large scale maps of properties (residential, commercial, and institutional) that extended along the tracks of the Pennsylvania Railroad between City Line at Overbrook and Paoli to the west. The maps contain fascinating information about property owners, types of buildings on the properties with frame, brick, barns, stables, green houses all shown, sewer lines, steam railways, electric railroads and "macadamized" roads.
20 1/2 x 29 1/2 inches, sheet.
Very good condition save small chipping.