(Ardmore) A.H. Mueller. Pl. 11. Atlas from … Overbrook to Paoli… Philadelphia, 1913. $295.00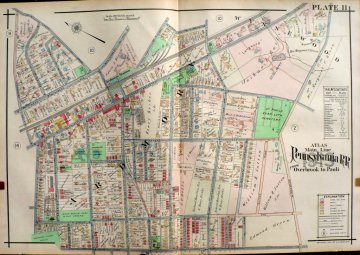 Plate 11
Ardmore including Ardmore station and extending from Mill Creek Road to the north, the Lower Merion Park and Playground and the border of Haverford College on the West, and Wynnewood Avenue on the south. There were an enormous number of churches in this area in 1913: Zion Baptist, St. Mary's, First Baptist, St. Goldman's, Calvary, First Presbyterian and Mathew Simpson Memorial churches and St. Paul's Evangelical Lutheran Cemetery and Church. The Autogar Company and the Counties Gas and Electric Co. occupy the property which later came to be owned by The Philadelphia Skating Club and Humane Society.
22 x 31 ½ inches, overall.
Hand colored lithograph.