(Upper Merion and Tredyffrin) A.H. Mueller. Pl. 25 Atlas from …Overbrook to Paoli… Philadelphia, 1908. $325.00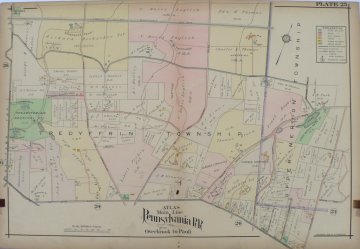 Plate 25
Showing a section of Upper Merion Township and Tredyffrin Township with important property owner names such as Kelley, Anderson, Morris, Thomas, Browning, English, Pechin, Colcket, Biddle, and Hecksher.
The Lower Merion Water Company, the current site of Martin's Dam, the Ivy Croft development, the Presbyterian Hospital and the Elizabeth Cathcart Home are all shown.
22 x 31 ½ inches, overall.
Hand colored lithograph.
Linen backed.