(West Chester and environs) Mueller. Atlas… From Rosemont to West Chester, 1897. $295.00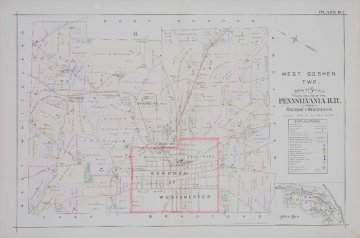 Plate 18
The map of West Goshen from this 1897 atlas, provides a colorful look at the many private and public properties, surround the borough of West Chester. Green Hill, Fern Hill and Maple Avenue stations are shown. Cemeteries, stables, and schools are all located throughout this map. Street names that will ring a bell for almost any West Chester resident such as High, Darlington, Matlack and Church will bring a smile to your face as you can see how the town has changed throughout the years, yet still maintained its history and charm.
30 ½ x 20 ½ inches, sheet.
Lithograph.
Excellent condition.