(East Goshen) Mueller. Atlas… From Rosemont to West Chester, 1897. $295.00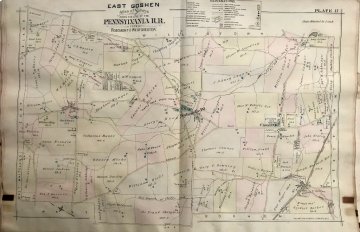 Plate 17

This map of East Goshen offers a lovely view of properties and buildings throughout the township. Meeting houses and school houses are among them, as well as many stables and barns. Farms and properties with 100 acres or more are located all across the township, as well as different creeks and dams. West Chester and Philadelphia Road is located in the bottom right corner of the map, and was a trolley road.
30 ½ x 20 ½ inches, sheet.
Lithograph.
Excellent condition.