(West Chester) A.H. Mueller. …Atlas Main Line Pennsylvania RR from Devon to Downingtown, 1912. $325.00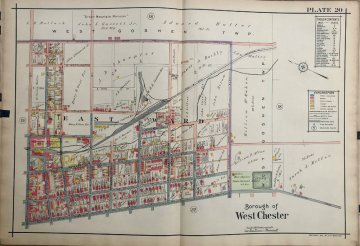 Plate 20
This map offers a great and colorful view of part of the Borough of West Chester. It shows popular residential roads such as South Walnut and South Matlack. High street runs along the bottom of the map. It is now known for its restaurants and shops. The 1st Baptist Church located on High Street is still an active church in the community today. With the Railroad running through, and the appealing colors, this map is a wonderful addition to anyone's collection, as well as a great representation of the bustling borough.
22 x 32 inches, sheet.
Hand colored lithograph.
Excellent condition.