(West Chester) A.H. Mueller. …Atlas Main Line Pennsylvania RR from Devon to Downingtown, 1912. $325.00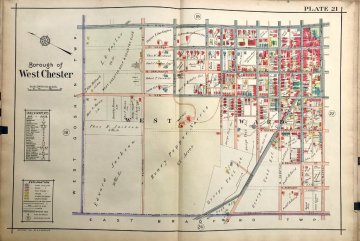 Plate 21
Another great map of the borough of West Chester, this map shows some important historic buildings and properties of West Chester. The top left corner shows West Chester Golf and Country Club, still active today. Along Gay Street is St. Agnes Church. The Chester County Court house is located in the top right-hand corner. Although the newly constructed courthouse is where legal matters now take place, this historic courthouse is where you'll find many students and businessmen and women eating their lunches, or newlyweds taking photographs! This map would be a great piece for someone who currently lives in the borough or enjoys taking part in the activities of this up and coming historic borough.
22 x 32 inches, sheet.
Hand colored lithograph.
Excellent condition.