(West Chester) A.H. Mueller. …Atlas Main Line Pennsylvania RR from Devon to Downingtown, 1912. $325.00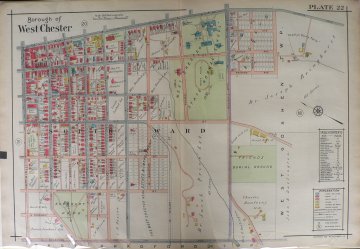 Plate 22.
This beautifully detailed map shows the borough of West Chester and major landmarks. The Church of the Holy Trinity along High Street is located at the top left. High Street is now the site of adorable boutiques, restaurants and coffee shops. Everhart Park in the bottom left corner is a popular spot for children to play and students to study when the weather is nice. West Chester University, then known as West Chester State Normal School, is shown with buildings that are still standing, such as Main Building and Recitation Hall. Wayne Field along Rosedale Avenue has been replaced with a beautiful residential quad and dormitories for students. This map is a wonderful representation of a town that has maintained its historic charm while becoming a desirable hot spot to both live and visit!
22 x 32 inches, sheet.
Hand colored lithograph.
Excellent condition.