(Canoeing) New York: Harper's Weekly, September 8, 1883. $195.00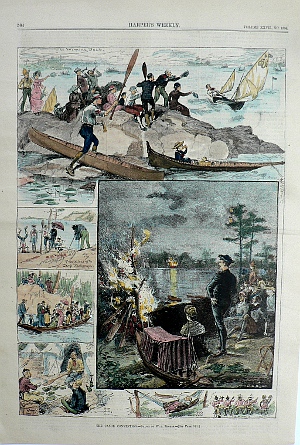 "The Canoe Convention"

In the 19th century, before photography became commonplace, newspapers and periodicals were illustrated with wood engravings. Many of the best artists of the day earned their bread and butter creating the original designs for these prints and engraving them. In this case, W.A. Rogers drew a detailed depiction of "Canoeing Among the Kanucks." The accompanying text describes the event in which the steamer Norseman carried a cargo of canoes, canoers and their paraphernalia to Stony Lake in Ontario Canada. They camped and conducted a regatta. The main images depict "The Winning Boat" returning to shore and canoers gathered around a camp fire at night. Inset views include negro minstrels, the family camp, the mess where drinks are served on a paddle, and "the tribulations of the camp photographer."
These minutely detailed original prints provide wonderful glimpses into the daily life of the period and provide invaluable information concerning the architectural detail of specific locations and individual buildings.

16 x 11 inches, sheet.
Hand colored wood engraving.
Excellent condition.