after A.B. Frost. (Football - Harvard vs. Yale) Harper's Weekly. New York, 1881. SOLD$205.00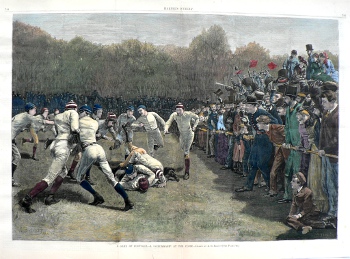 "A Game of Football - A 'Scrummage' at the Close"

In the 19th century, before photography became commonplace, newspapers and periodicals were illustrated with wood engravings. Many of the best artists of the day earned their bread and butter creating the original designs for these prints and engraving them. In this case, one of the most famous American sporting artists, A.B. Frost, created the a dynamic view of Harvard and Yale players engrossed in the action of the game while hundreds of spectators ring the field.

These minutely detailed original prints provide wonderful glimpses into the daily life of the period and provide invaluable information concerning the architectural detail of specific locations and individual buildings.
The text on the reverse tells the story. It begins, " In the fall of 1875, Harvard went to New Haven and showed the Yale boys how football should be played according to Rugby rules..."

16 x 22 inches, sheet.
Hand colored wood engraving.
Excellent condition.
Accompanying text on reverse.