Vanity Fair. Kirby Gate. London, 1901. $165.00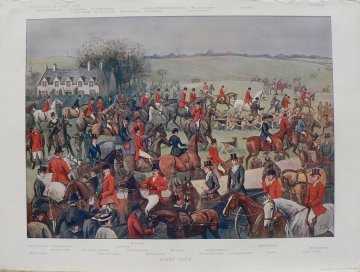 "Kirby Gate

A wonderfully large panoramic view of scores of red coated gentleman riders, ladies riding sidesaddle and hounds gathering at Kirby Gate before the start of the hunt. The names of the blue-blooded participants are in the margins. They inclue The Duke of Marlborough, Lord Belper, Elizabeth, Countess of Wilton, Captqin Burns Hartopp, Captain T. Boyce, Princess Henry of Pless, Lord Henry Bentinck, General Brocklehurst, Lady Hartopp, the Earl of Lonsdale and Lady Angela Forbes among others.
15 5/8 x 22 inches, sheet.
Chromolithograph.
Excellent condition save small loss at extremity of lower right corner.