Munnings, Alfred. The Essex Hunt. London: Frost and Reed, 1929. $600.00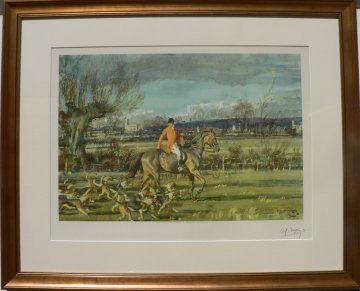 "The Essex Hunt"
Sir Alfred James Munnings (1978-1959) is regarded as one of England's finest 20th century painters of horses. His work is immensely popular for its highly realistic yet painterly qualities. His paintings have sold for enormous prices. In 2007 his large oil on canvas The Red Prince Mare sold for $7,848,000.
17 x 22 inches, sheet.
Offset color lithograph.
Pencil signed by the artist,
27 x 21 inches, sheet.
Glued to backing board.