W. S. Vanderbilt Allen. (Essex County Hounds) New York: Vanderbilt Allen, 1893. $650.00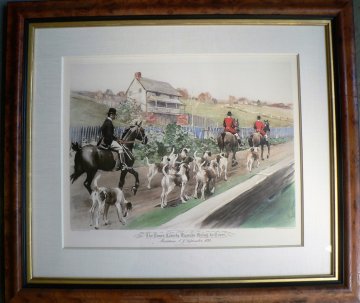 "The Essex County Hounds Going to Cover"
An original print from a portfolio entitled Sporting Incidents; Being a Collection of sixteen plates done in color…representing the most important events of the track, field and road. " The prints were taken from the work of W.S. Vanderbilt Allen the respected American sporting artist. This was the era of the great American industrialists, a time when their fortunes, business matters and social life were well documented. The Sporting Incidents prints typified the era detailing the fashionable sporting endeavors of hunting, polo, coaching, steeple chase and the values and benefits these past times had on health, moral character and behavior.
Heliotype,
Beautifully and appropriately framed to 27 x 31 inches, overall.
Excellent condition.