A. B. Frost (Summer Woodcock) The Shooting Pictures. New York: Charles Scribner, 1895. Framed $1,250.00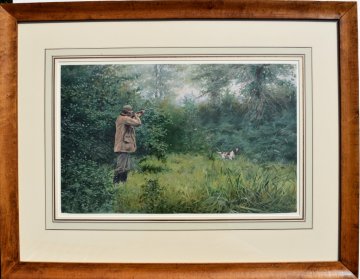 "Summer Woodcock"
An exceptionally fine hunting print by America's greatest sporting artist Arthur B. Frost (American 1851 - 1928). An illustrator, graphic artist and painter, Frost's work epitomized the Golden Age of American Illustration.
The Shooting Pictures is considered Frost's definitive work, depicting the most popular hunting activities of the day. In 1895, publisher Scribner & Sons issued an impressive portfolio of twelve chromolithographs after Frost's sporting watercolors. Frost's work is known for its dynamic representation of motion and sequence. Every plate included in portfolio are classic images, testaments to the dedication and excitement of sporting life, and to the talents of the artist who created them.
Folio chromolithograph
Archivally framed measuring 23 x 30 inches finished. .
Excellent condition.