(Harness Racing) after G. David. SYRATA (Cheval Russe) Paris: Jourdan, Barbot & Cie, ca. 1883. $850.00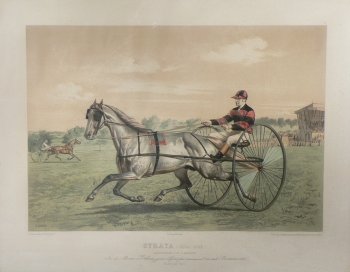 "SYRATA (Chevel Russe) appartenant a M. L. Espanet"

A large chromolithograph of harness racing showing the horse Syrata (born of Mouzza and Votchina) who won the Grand Prix International (trot attele) in France at Vincennes in 1883. The rider was Renz. The horse and driver are shown in the immediate foreground with another competitor warming up in the background and the packed grandstands shown in the rear of the image. The artist communicated good sense of moment.

20 3/4 x 26 inches, sheet.
Chromolithograph.
Excellent condition.