William Cavendish. Duke of Newcastle. (Portrait) German edition, (1700) 1764 $275.00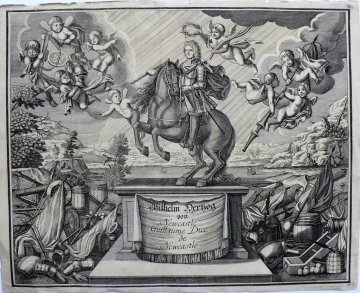 William Cavendish. Duke of Newcastle. (Portrait) German edition, (1700) 1764
Cavendish fought for King Charles I but fled to the continent when the king was executed and Cromwell came to power. It was in France and then in Antwerp that he developed his method of training horses that made him famous and that was illustrated in several influential books on dressage, one of which contained this engraving. This portrait was based upon the original illustration of Abraham Van Diepenbeeck. William is shown in a heroic pose, seated upon his rearing horse placed upon a stone pedestal draped in bunting bearing on which is written Wilhelm Hertzog von Newcastle Guillaume Duc de Newcastle." The pedestal rests on a coastal area with a view to a bay beyond, ringed by mountains. The scene is packed with figures of putti in the sky circling Cavendish. Armor, weapons and flags occupy the foreground.
Laid paper.
13 x 16 ¾ inches, sheet.
Very good overall but some evidence of handling with small tears in upper and lower margins.