Milivoj Uzelac (Skiier) Paris 1932. Framed $895.00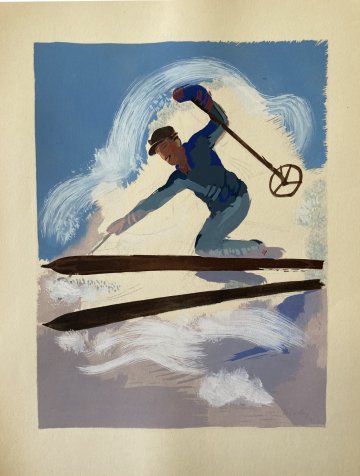 Plate 41 "Les Sports d'Hiver"

Milivoj Uzelac (1897–1977) was a painter influential in the Zagreb (Croatia) modern art scene of the 1920s and 30s. Croatian artists like Uzelac were influenced by the art scene in Vienna and Munich and post-impressionism work from Paris, studying the latest trends and integrating them into their own work. Uzelac spent much of his professional life in France, absorbing current ideas of classicism and cubism, receiving commissions and successfully selling his work. Uzelac produced an extensive number of works in a wide range of techniques: oil, tempera, lacquer, gouache, chalk, ink, and graphics. He created many decorative panels for private homes and public spaces, stage sets, posters, illustrations and ceramics. His move to the south of France produced a series of lighter paintings in a brighter color palette. Among his vast output were a string of great works in which references to Matisse and Derian were executed in Uzelac's own personal style. These pochoir print were included in a portfolio of prints published for the 1932 Olympics in Los Angeles as a limited edition of 750, number 47.

Pochoir print
16.5 x 12.5 inches sheet size.
Archivally framed with burnished silver toned modern profile molding measuring 17.5 x 20 inches
Excellent condition.