(New Bedford, MA) The Ladies' Repository: A Monthly Periodical, Devoted to Literature and Religion. Cincinnati, July 1854. $175.00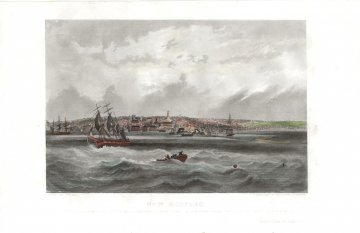 "New Bedford"
Wonderful scarce steel engraving from The Ladies' Repository, a mid-nineteenth century subscription periodical produced in Cincinnati by members of the Methodist Church. It was a magazine "Devoted to Literature and Religion," containing articles, poetry, fiction, and notes of interest to its readers. Along with all of that content the magazine also included a number of charming small topographical engravings of various American cities, towns and ports.

Steel engraving with modern hand color.
6.5 x 10 inches sheet, margins slightly trimmed.
Excellent condition.