(Mount Hood) Picturesque America. New York: Appleton and Company, 1872. $195.00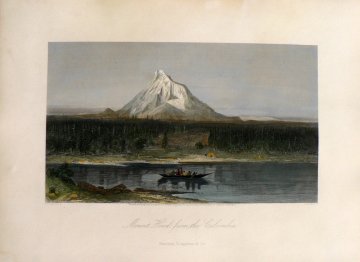 William Cullen Bryant's 19th century publication Picturesque America; or the Land We Live In, was the last in a long tradition of American "view" or gift books. This extremely popular work was illustrated with 49 finely engraved steel plates of various American cities and natural wonders. Much of what Victorian Americans knew about the Untied States was gathered from the pages of Bryant's informative and beautiful text, published by D. Appleton and Company of New York in 1872. Picturesque America allowed readers to explore the great United States without leaving their arm chairs. A striking image with the mountain at the center towering over the water below where Native Americans move through the water on a long boat and tepee encampment line the banks.
9 1/2 x 13 inches, sheet.
Hand colored steel plate engraving.
Excellent condition save minor light discoloration in upper margin.