(York, PA) City Drug Store. John F. Patton. York, 1876. $175.00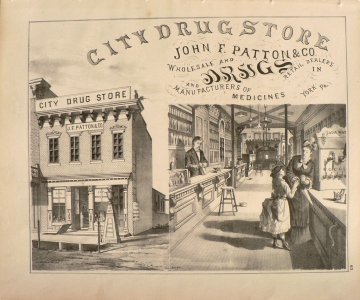 City Drug Store. John F. Patton & Co. . Wholesale and Manufacturers of Medicines. Retail Dealers in York, PA"
A wonderful step back in time to an era before chain drug stores! The exterior of the building is shown in the left side of the image. J.F. Patton & Co. are prominently displayed across the top of the building, a trade sign in the form of a giant pestle stands atop a pier. The exterior signage advertises ice cold soda water. The elegantly appointed and large interior shows the pharmacist standing on the left in front of an array of bottles, there is a "Lab" marked at the rear of the building and in the foreground a well dressed woman and child are securing soda water from the machine on the right.
The York Daily Newspaper shows many advertisements in the late 1870's for workers to work in the shop and for medicines that were available through it.
13 ¾ x 16 ¼ inches, sheet.
Lithograph.
Nice condition with minor evidence of handling.