(Pittsburgh) after Edward Willmann. Paris, ca. 1859. $250.00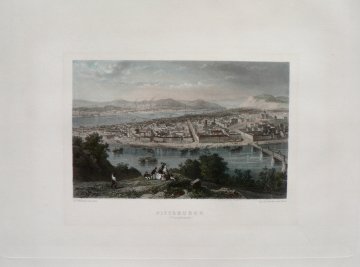 "Pittsburgh (Pennsylvania)"
An extraordinarily detailed and beautifully and colored engraving of Pittsburgh at the middle of the 19th century. Mills line the banks of the Monongahela River and the dense clusters of housing, churches and businesses extending on the land between the Monongahela and the Alleghany rivers are artistically and realistically rendered.The foreground shows fashionably dressed people admiring the view of the city from Mount Washington. Paddlewheelers and sailboats fill the rivers and a few smokestacks presage the enormous industry that would envelop the city during the next quarter of a century.
The Carnegie Museum of Art in Pittsburgh has the version of this engraving.
Hand colored engraving.
10 1/4 x 15 inches, sheet.
Excellent condition.