(Delaware Water Gap.) After Thomas Birch. Engraved by William Strickland. Philadelphia, ca. 1820. $695.00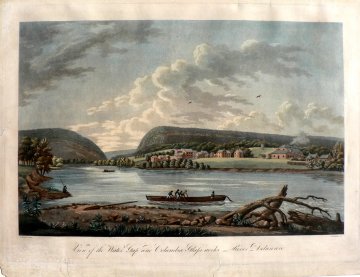 "View of the Water Gap and Columbia Glassworks River Delaware."
A beautiful work that was the product of the collaboration of the noted Philadelphia painter, Thomas Birch and the prominent architect, artist and engraver, William Strickland.
The Delaware Water Gap is a spectacular natural wonder where the Delaware River cuts through a ridge of the Appalachian Mountains known as the Blue Mountains on the border of Pennsylvania and New Jersey.
This view shows the town of Columbia New Jersey as seen from the Pennsylvania side. Columbia was created by New York businessman Francis Meyerhoff in 1812 as a site for buildings to house the workers he hired to run his glass factory there.
Etching and aquatint.
16 ½ x 22 inches, sheet.
Very good condition.