(Central Washington) Washington Irving. Life of Washington. New York: G.P Putnam, c. 1860.$135.00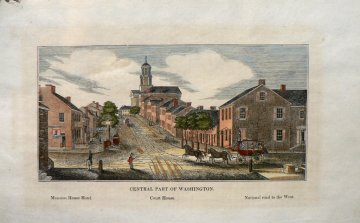 "Central Part of Washinton"
A pretty hand colored view of the brick buildings in the center of downtown Washington as it appeared in the mid nineteenth century. The Mansion House Hotel is shown in the foreground at left, the Court House at the center of the image and the "National road to the West" is driven by a horse drawn carriage.
Hand colored steel engraving.
6 x 9 1/2 inches, sheet.
Excellent condition save light matstaining in margin.