(Avignon) Braun and Hogenberg, Cologne, ca. 1572. $675.00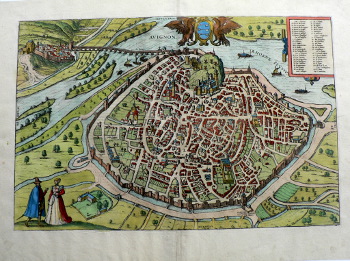 "Avignon"

This view of the French city of Avignon was included in Civitates Orbis Terrarum, the first systematic series of city views, published in Amsterdam between 1572 and 1617. This great work included bird's-eye views and map of all major cities in Europe, plus important cities in Asia, Africa, and Latin America; all the known world at that time. Edited and annotated by theologian and publisher Georg Braun with most plates engraved by Franz Hogenberg, the Civitates was intended as a companion volume for Abraham Ortelius's 1570 world atlas, Theatrum orbis terrarum. Over a hundred different artists and cartographers contributed to the sumptuous artwork, which not only shows the towns but also features additional elements, such as figures in local dress, ships, ox-drawn carts, courtroom scenes, and topographical details to help convey the situation, commercial power, and political importance of the towns depicted. These views provide wonderfully comprehensive views of urban life at the turn of the 17th century.

"Avignon is shown from the south in a bird's-eye view that almost resembles a plan. On the other side of the Rhone lies Villeneuve, the site of the Carthusian monastery… Many of Avignon's medieval structures have been preserved such as the massive city walls (14th cent.). The city scape is dominated by the Romanesque cathedral of Notre- Dame des Doms dating from the 12th century and the fortress-like Palace of the Popes…The Saint-Benezet bridge, which was commemorated in the traditional French song "Sur le pont d'Avignon", dates from the 12th century. The plate shows the original bridge which was almost completely destroyed by floods in 1668. In 1309-1376 Avignon was the residence of the popes, during what is known as the Avignon exile, Up to 1797 Avignon remained in papal ownership. Silk making was an important economic activity in Avignon. Remarkable are the four windmills that can be seen on the some 60 m high limestone bluff that rises up in the middle of the town." (Cities of the World – 363 Engravings that Revolutionized the World, Taschen, p. 150)

15 ¼ x 21 ¼ inches, sheet.
Engraving with modern handcoloring.
Eacellent condition.