(Dresden) after C.G. Hammer. Dresden: E. Arnold, c. 1860. $1,100.00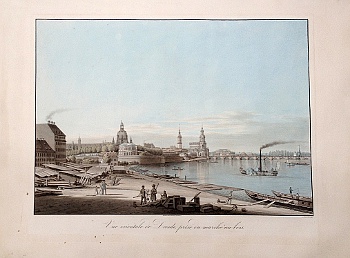 (Dresden)
"Vue orientale de Dresde, prise du marche au bois"

Christian Gottlob Hammer (1779- 1861), was an influential German landscape painter and engraver. He became a member of the academy where he had a close relationship with German Romantic artists such as Caspar David Friedrich. He is well known for his landscape and city views particularly of Saxony and his home town of Dresden.
For centuries, Dresden was the capital and royal residence for the Electors and Kings of Saxony. During this time, the city prospered and became known as "the Jewel Box" and "Florence at the Elbe" for its baroque and rococo city center. This lovely view shows the city center at a particularly beautiful point in its history. The city was all but destroyed by a controversial allied bombing towards the end of World War II and 40 years of as part of communist East Germany resulted in the construction of typical Eastern Bloc architecture. However, since German reunification, restoration work has begun to reconstruct parts of the historic center of the city.

20 ½ x 27 ¼ inches, sheet.
Hand colored aquatinted engraving.
Excellent condition save dirt smudges in margin.