(Rolandson and Pugin) Microcosm of London. London, 1808-09. $275.00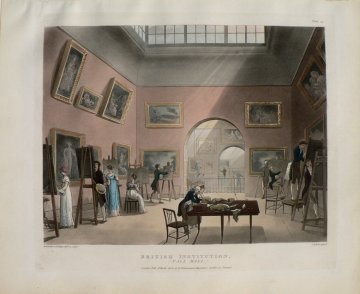 "British Institution, Pall Mall"
The perfect gift for an artist or anyone who loves painting.
An original antique engraving from the Microcosm of London. This work was written by William Henry Pyne with aquatinted engravings by Thomas Rowlandson, the renowned British caricature artist who was responsible for the figures and August Charles Pugin, a French artist and draughtsman who drew the architectural details. The intent of the work was to showcase the instiatutions, scenery, people, clothing and activities of cosmopolitan London at the turn of the 19th century.
Aquatint engraving with full original coloring.
10 1/2 x 13 1/2 inches, sheet.
Excellent condition.