Bartlett, W. H. ...Baghtche Keui London: George Virtue, 1839. $150.00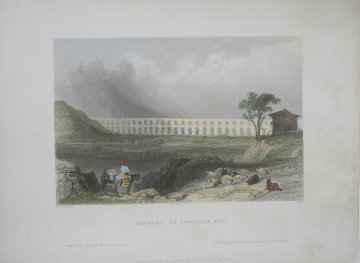 "Aqueduct of Baghtche Keui"
W. H. Bartlett (1809-1854) is probably the most famous 19th century artist to produce travel volumes. His schooling as an architect is apparent in his interest in the buildings and structures and in his attention to the detail of their ornament. Bartlett's engravings are enlivened by the inclusion of figures which lend a sense of scale and add interest to the composition.
This image was included in his work entitled The Beauties of the Bosphorus.
7 ¾ x 10 ¼ inches, sheet
Hand colored steel engraving.
Very good condition.