Meyer, Hermann. The Balkan Pass. New York: Meyer, 1852. $150.00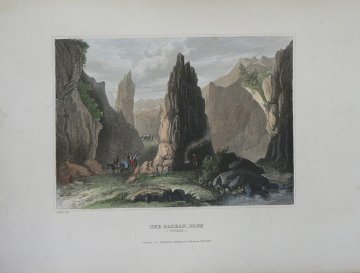 "The Balkan-Pass (Turkey)"
In 1832 in Hildburghausen, Germany, Joseph Meyer began publishing a portfolio of engraved views of all parts of the world entitled Meyer's Universum. The steel engraved illustrations were so popular that in 1849, Joseph sent his son Herrmann to New York so that he could open an American branch of the business. Between 1852 and 1853 they published a second edition of the work. The imprint information below the image of this print tells us that this view was included in the New York publication.
7 x 10 ¼ inches, sheet
Hand colored steel engraving.
Excellent condition.