(Garlanded View) German, 17th or 18th century. $105.00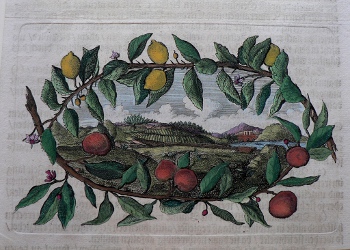 Garlanded view)

The view of Italian landscape with a classical building, aquaduct and terraced fields is presented through a wreathed garland of branches ladened with fruit.
Hand colored engraving.
5 3/8 x 7 ¼ inches, sheet.
4 ¼ x 6 3/8 inches, platemark.
Excellent.