From Middleton's Geography. (Versailles) London, 1778. $165.00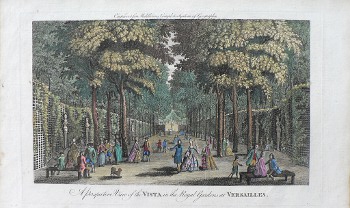 "A Perspective View of the VISTA in the Royal Gardens at VERSAILLES"

A meticulously detailed engraving of beautifully dressed eighteenth century adults and children enjoying the allee adjacent to the formal gardens at Versailles. It is from a scarce work entitled, The Complete System of Geography published in 1778 by Charles Theodore Middleton. The work included landscapes and peoples of Asia, Africa, America, and many other exotic locales typically based upon descriptions brought to the engravers in England from afar. These images accompanied written descriptions of authors exploring foreign lands, feeding the public's hunger to see the world - at least on paper.

Engraving with hand coloring.
8 5/8 x 14 inches, sheet.
Excellent condition.