Kip, Joannes. (Hartherop) The Ancient & Present State of Gloucestershire. London, 1768.$325.00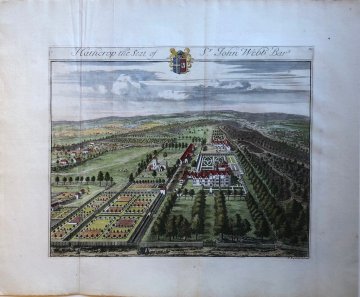 "Hartherop the Seat of St. John Webb. Bar"

The noted Dutch draughtsman and engraver, Johannes Kip (1653-1722) engraved this fine topographical engraving for Sir Robert Atkyns's The Ancient and Present State of Gloucestershire. The plates in this portion of the series were added to his famous slightly earlier works Britannia Illustrata and Le Nouveau Theatre. The work was so popular that it was issued in a second edition in 1768. This engraving is from that issue. Kip's views are widely considered to be among the most important early English topographical works. Great care and detail were used in the creation of each engraving. Each estate is seen from a "bird's-eye view," with great attention given to minute architectural nuances and the natural surroundings. Figures and coaches were included to lend perspective and scale.

19 x 22 ½ inches, sheet.
Etching and engraving.
Hand colored.